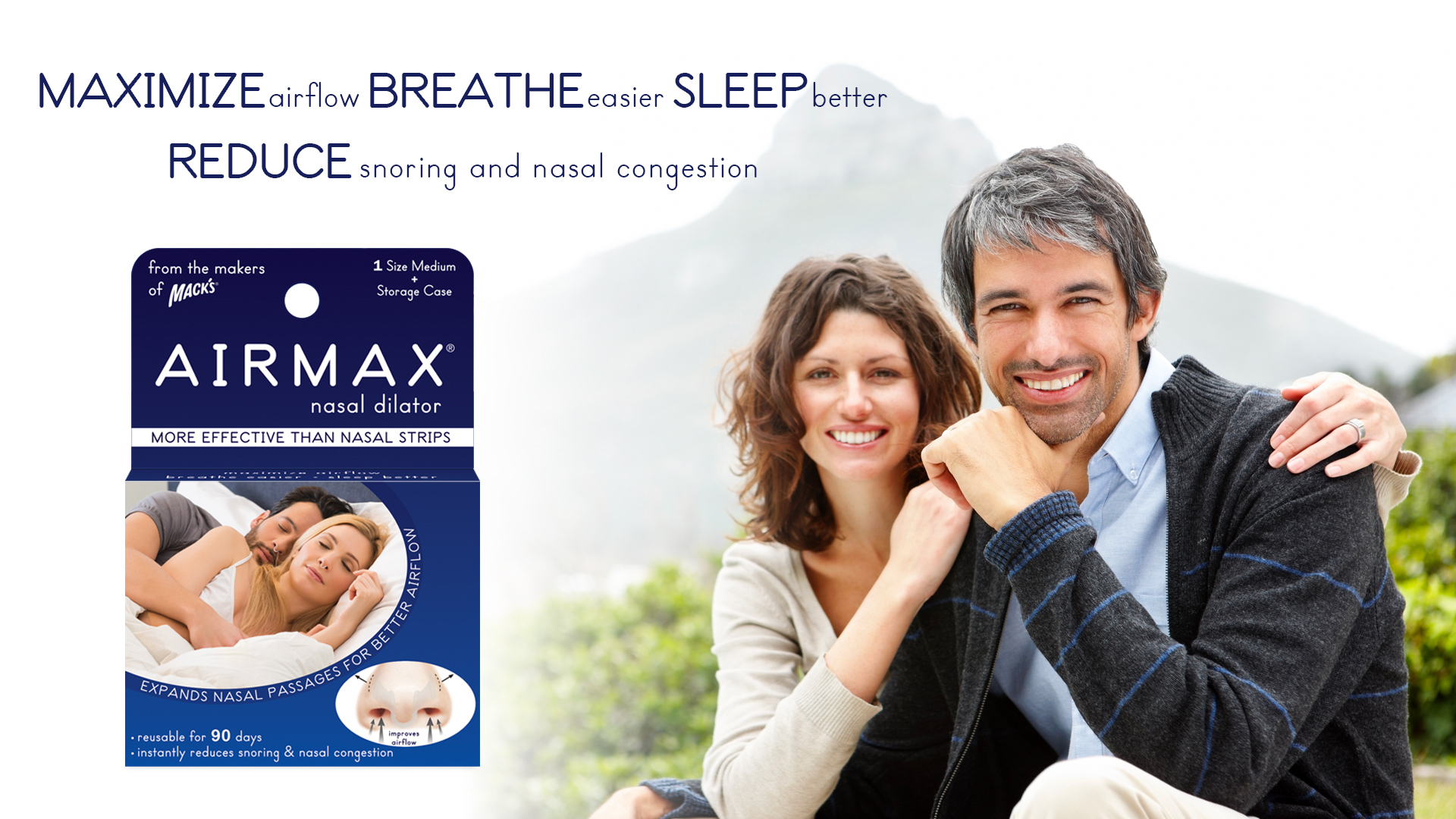 What is the AIRMAX® Nasal Dilator?
The AIRMAX® Nasal Dilator, from the makers of Mack's®, is a specially designed nasal device  that helps users breathe more freely  through their nose. It is:
• Designed to be comfortably placed inside the nasal passages
• Proven to help widen nasal passages
• Tested and proven to increase airflow
• A patented design
• An FDA registered medical device
• Made of medical grade material
• More effective than Breathe Right® Nasal Strips
"I have been using the AIRMAX® Nasal Dilator for a month, and find it surprisingly comfortable. More importantly, no more snoring or waking up with a dry mouth. My sleep quality has improved, I wake up more refreshed and better rested."
– Val B.
"Since purchasing this product, my husband and I have been able to sleep without me worrying about waking up due to his snoring. It is lovely to find a product that works.
 "
– Mrs. Pender
"I would like to say that this device really works. My husband started snoring in the last few years and it has gotten worse and worse, to the point I have had to sleep in another room, as it was waking me up. Then we were introduced to the AIRMAX® Nasal Dilator and life has become as it was – no more snoring. Thank you, AIRMAX®!
"
– Helen H.
"Only bought your AIRMAX® Nasal Dilator 2 days ago at the Fremantle Festival Market. I can tell that it's just what I have been looking for for years, and would buy it if it cost $100.
"
– Val W.
"I'm sending you this mail, as I'm probably the most enthusiastic fan of your product. I've used your product for several days now and the headaches that I have every morning are finally gone. My husband is also using the AIRMAX® Nasal Dilator and I'm finally relieved from his snoring. For years he had to rinse his nose every time he woke up, but with AIRMAX® he doesn't have to do that anymore! One word: FANTASTIC!"
– Tanja
"I have been using the Breathe Right® strips since they came out. The AIRMAX® Nasal Dilator is 3 times better than the strips. I would wear them all day and my glasses would bend the edges of the strips and get caught in them. I don't have to deal with that with the AIRMAX®. My ease in breathing is so much greater with the AIRMAX® Nasal Dilator than it was with the strips. Nobody knows I have it on. I love the carrying case too. It's just such a great product, I had to let you know."
– Don G.
"My husband's nose was broken when he was little and since then he hasn't been able to smell nor taste food. One side of his nose is almost closed. He put the AIRMAX® dilator in and he's smelling and tasting food again. Very exciting!  Thanks!"
– Marie F.